Honeymoon Capital of the World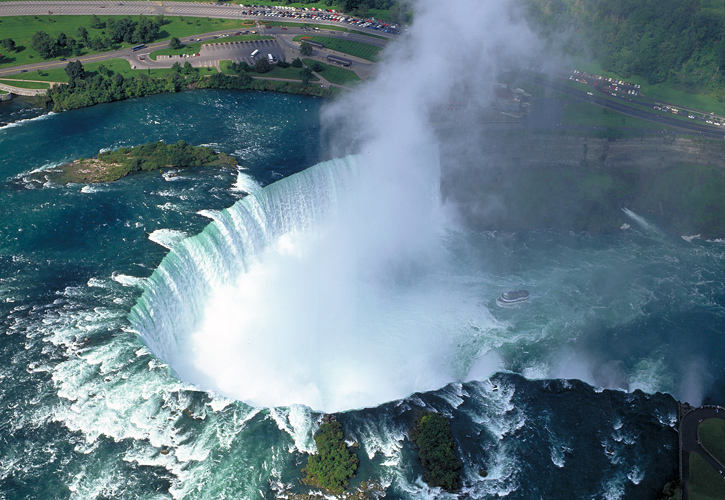 The city of Niagara Falls is located on the western bank of the Niagara River in the Golden Horseshoe region of Southern Ontario.
The Region of Niagara is surrounded by three lakes - Lake Ontario, the River Niagara and Lake Erie. The main attraction in Niagara is the world-famous set of three large waterfalls on the Niagara River. The three falls are Horseshoe falls, American falls and Bridal Veil Falls. The Canadian side of Niagara Falls located between Goat Island and Table Rock is known as the Horseshoe Falls. There are over many waterfalls in the world are taller than Niagara Falls. But Niagara Falls is the biggest waterfalls in the world by the volume of whopping water siphoned at an average of 750,000 gallons each second.
Niagara Falls is one of the world's major tourist destinations. Niagara Falls attracts millions of tourists every year.
Tourism started in the early 19th century and has been a vital part of the local economy since that time. In addition, Niagara Falls markets itself as a honeymoon destination; it is the self-proclaimed "honeymoon capital of the world".
Niagara Falls is approximately 130 km away from Toronto, the capital of Toronto. The area of the Niagara Region is approximately 1,800 km2. The Niagara Falls city is built along the Niagara Falls waterfalls and the Niagara Gorge on the Niagara River, which flows from Lake Erie to Lake Ontario.
Some cultural areas of Niagara Falls include Queen Street, Stamford Centre, Chippawa Square and Scotia Bank Convention Centre.
Find the most popular attractions and things-to-do in Niagara Falls.