Ontario: Something for Everyone
In Ontario motorists proudly display the phrase "Yours to Discover" on their license plates. Incredibly vast and diverse, Canada's second largest province truly offers something for everyone. Ontario stretches over one million square kilometers, and the diversity of landscapes will make your adventures one-of-a-kind.

An eastern-central province, Ontario is bordered by Manitoba and Québec. To the north lies a largely untouched landscape of forests and lakes, while the most heavily populated areas around Toronto and Ottawa are located in the southern region of the province.

"Ontario" is thought to have originated from the Native Iroquoian word "Kanadario," which means "beautiful waters." With more than 250,000 lakes and thousands of kilometres of rivers and streams, the province is home to a quarter of the world's freshwater sources.

More than brochures and websites, the natural beauty of Ontario comes to life in popular tourist destinations like Algonquin Provincial Park, Pukaskwa National Park, and Niagara Falls.

The major urban centres of Ontario show the true ethnic diversity of the province. As one of the largest cities in the world, Toronto is home to over 80 different ethnic groups. With an exciting night-life, thriving music scene, and professional sports teams the city offers non-stop action. The Royal Ontario Museum, which displays world-renowned art, history and science collections, continues to make Toronto a hub for world-class culture.

In Ottawa, the Canadian Capital, tourists get a chance to visit some of the province's most historically significant buildings. Home to Parliament Hill and the Prime Minister of Canada, Ottawa is a major stage for the Canadian political system.

Today, ongoing waves of immigration continue to shape Ontario's culture, allowing the province's cities to represent the world with their rich ethnic variety.
Currency:
We recommend that visitors to Ontario use Canadian funds.
If you need to exchange your own currency for Canadian funds (or vice versa), a good rate of exchange is offered by Ontario banks and trust companies.
Many stores and services will accept U.S. currency, but the exchange rate they offer may vary greatly.
Since there are no laws enforcing foreign currency rates of exchange, we strongly recommend that you convert to Canadian funds before you make your purchases.
We recommend also that you buy traveller's cheques at your home bank, in Canadian dollars. If they are issued in any other currency, treat them as cash and convert them at a bank or trust company.
Language:
English is the language spoken by most residents in Ontario, but there is a significant French speaking population in the eastern half of Ontario
French Language Services are available in many communities.
For more information French Language Services, you may call the Office of Francophone Affairs at 1-800-268-7507 or 416-325-4949 or log on to www.ofa.gov.on.ca
Road and Highway Information:
Speed limits are specified in kilometres per hour (km/hr) and vary by the type of road.
1 kilometre equals about 0.6 of a mile.
100 km equals approximately 62 miles per hour.
400 series highways (401, 404, and 407) post speed limits of 100 km/hr.
All other provincial highways are generally 80 km/hr
Local town and city roads are usually 50 km/hr.
Fuel prices range throughout the region and are sold by the litre.

Seat Belt/Child Restraint Laws: Drivers and all passengers required to wear seatbelts. Child restraints required for children less than 18 kilograms (40 lbs.)

Helmets for Motorcyclists: Required

Radar Detectors: Prohibited
Border Crossing:
American visitors crossing the border do not need a passport, but may be asked to verify their citizenship with documents such as a passport or a birth certificate.
Travellers under the age of 18 not accompanied by a parent need a letter of permission to travel in Canada from a parent or guardian.
If you are travelling with children, you should carry identification for each child.
Non-residents of Canada visiting Ontario are allowed to bring in any reasonable amount of personal effects (reasonable means enough for personal use for the length of the stay.) Please note that any unreasonable amounts are subject to duty.
Many agricultural items are restricted or prohibited entry to Canada. Canadian law requires that you declare all agricultural products you bring into Canada to Customs officers when you arrive
Firearms Laws:
By federal law, all nonresidents entering Canada with a firearm must declare their weapon in writing and pay a fee of $50 (Canadian). Contact the Canadian Firearms Centre at (800) 731-4000 for more information.
Holidays:
Jan. 1: New Year's Day
April 9: Good Friday
April 11: Easter Sunday
May 24 (or closest prior Mon.): Victoria Day
July 1: Canada Day
Aug. (1st Mon.): Civic Holiday
Sept. (1st Mon.): Labour Day
Oct. (2nd Mon.): Thanksgiving
Nov. 11: Remembrance Day
Dec. 25: Christmas Day
Dec. 26: Boxing Day
Weather
Temperatures vary considerably across Ontario
Temperatures are given officially in degrees Celsius (°C) with the Fahrenheit equivalent (°F) often added.
Temperatures average -6 to -10 degrees Celsius in the winter and 18 to 24 degrees Celsius in the summer.
For an exact conversion of degrees Celsius to degrees Fahrenheit: multiply the °C by 9, divide by 5, and add 32.
Example: Convert 37°C to Fahrenheit. Multiply the Celsius temperature, 37 x 9 = 333, divide by 5, 333 ÷ 5 = 66.6, Add 32, 66.6 + 32 = 98.6°F
Traveling with Pets:
Pets prefer the security of a travel container with water to drink.
Be prepared to provide Customs officials with a certificate of good health and vaccination against rabies.
Ensure your pet is licensed and has either collar tags, an ID tattoo or has been micro-chipped.
Establishments have individual pet policies, so enquire in advance.
Always ensure your pet is on a leash when you take a break.
The Humane Society of Canada recommends that pets are best left at home.
Provincial Parks allow pets on a maximum of 1.8 metre (6 ft.) chained leash (not retractable/bungee leashes.)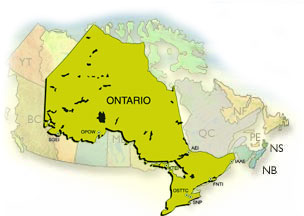 Fast Facts

Population: 11,410,046
Size: 1,076,395 sq. km. (415,596 sq. mil.); ranks 4th
Capital City: Toronto
Time Zone(s): Eastern/Central DST
Minimum Age for Unrestricted Driver's License: 16 years, 8 months
Minimum Age for Gambling: 19
Alcohol Consumption: Legal age is 19
Taxes: The Ontario provincial sales tax is 8 percent. Canada's goods and services tax is 5 percent.
Highest Point: 693 m/2,274 ft., Ishpatina Ridge.
Lowest Point: Sea level, Hudson Bay
External links
Ontario
Queen's Park, Toronto,
Ontario, Canada M7A 2R9
1-800-ONTARIO (668-2746)
http://www.travelinx.com/