Manitoba Theatre Centre

The Manitoba Theatre Centre is a community-based, registered charitable not-for-profit arts organization. Celebrating its 50th anniversary in 2007/08, MTC was Canada's first English-speaking regional theatre and, under founding Artistic Director John Hirsch, became a model for regional theatres throughout North America.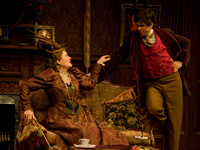 Under Artistic Director Steven Schipper, MTC now presents over 250 performances annually for more than 150,000 theatre-lovers. MTC produces 6 plays at The John Hirsch Theatre at the MTC Mainstage, 4 plays at The Tom Hendry Theatre at the MTC Warehouse, as well as a regional tour, which annually travels to over 30 communities throughout Manitoba and Northwestern Ontario.