McPhillips Street Station Casino


McPhillips Street Station invites you to relive the opulent splendor of the past and saunter down the street in our historic railway village amid the bustle of old world life. Deep red velvets, rich woods, and twinkling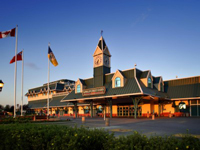 chandeliers take you back to a grand era of excitement and indulgence. Step back in time as you enter this 178,000 square foot, smoke free facility that offers exceptional dining and lounges, popular live entertainment, and a first-class gaming experience.

Open year-round, Monday to Saturday from 10:00 am to 3:00 am and Sunday from noon to 3:00 am. Closed on selected holidays.
Group offers available.