Lower Fort Garry National Historic Site Of Canada


Lower Fort Garry National Historic Site of Canada is the oldest intact stone fur trading post in North America. The site has extensive grounds and beautifully restored heritage buildings. It was built by the Hudson's Bay Company between 1830 and 1852 and was originally the headquarters of the fur trade fir all of the North West.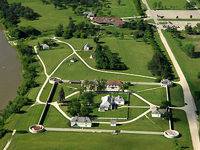 Begin your visit in the Visitor Reception Centre with our extensive interactive audio-visual exhibit before heading out to the historic grounds. On-site costumed interpreters recreate daily life at this Hudson's Bay Company post where you will be able to enjoy tea with the Governor's wife, barter for goods with the company clerk, sit in a tipi and listen to the whispers of ancient legends, and touch the course fur of a bison hide.

It is also possible to rent our buildings/grounds for special events such as weddings, receptions, meetings, & family reunions.